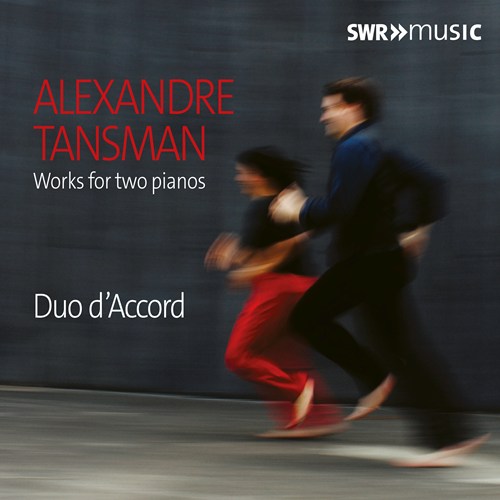 English booklet notes ...
Alexandre Tansman
Le Train de nuit (The Night Train)
Sonate pour deux pianos
Andante sostenuto - Allegro con moto
Adagio
Molto vivace
Moderato - Allegro deciso
Fantaisie sur des valses de Johann Strauß

La Grande Ville.
La rue (Tempo di Fox-Trot)
Cité ouvrière (Tempo di Blues)
Dancing (Tempo di Charleston)
Fantastic first reactions from Tansman's daughters Mireille and Marianne:

Dear Lucia & Sebastian,
What a MARVELLOUS CD !! The performance is so excellent and I never heard these two piano works played in such a virtuose, musical and poetic way. It should have a great success. I am really enthusiastic !
A huge THANK YOU

Mireille
(15.5.2018)


Dear friends,
I'm sorry to thank you so late, but I arrived in Paris just 2 days ago and be able to listen to your recording! It's really a marvellous surprise as your dexterity and sensibility concerning the works which I heard before gives really the intention of the composer and the discover of "Train de nuit" so jazzly remembered to me when I had the opportunity to see the ballet in London, just after our mother's departure, when we were invited at our father's publisher home (Universal from Wien); I remember the sound of the train!

Now, as this work has been recorded, we have to publish it. There is no more possibility that this ballet be again danced with Jooss's choreography as there is nothing written concerning this ballet, contrary to the Big City.

A lot of success for both of you and congratulations!

All my best, Marianne
(6.6.2018)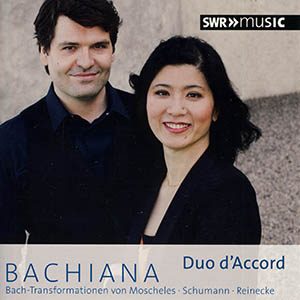 English booklet notes ...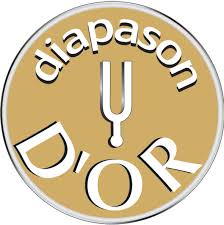 BACHIANA
IGNAZ MOSCHELES
Preludes from the Well-Tempered Clavier with a concertizing second piano op 137b*
ROBERT SCHUMANN
Six Fugues on the name BACH for organ or pianoforte with pedal op 60
Transcription for piano four hands by Duo d'Accord*
CARL REINECKE
Bach-Variations for piano four hands op 24


* Premiere recording


Bach/Moscheles: WTK II/5 in D Major
Bach/Moscheles: WTK I/24 in B Minor
First adaptation in the strict style
Schumann: Fuga 1 in B flat Major
Bach/Moscheles: WTK I/15 in G Major
Bach/Moscheles: WTK II/6 in D Minor
Schumann: Fuga 2 in B flat Major

Bach/Moscheles: WTK I/4 in C sharp Minor
Bach/Moscheles: WTK I/24 in B Minor
Second adaptation in the free style
Schumann: Fuga 3 in G Minor
Bach/Moscheles: WTK I/1 in C Major
Bach/Moscheles: WTK I/6 in D Minor
Schumann: Fuga 4 in B flat Major
Bach/Moscheles: WTK I/2 in C Minor
Bach/Moscheles: WTK II/7 in E flat Major
Schumann: Fuga 5 in F Major

Bach/Moscheles: WTK I/21 in B flat Major
Schumann: Fuga 6 in B flat Major
Some years ago, we almost simultaneously came across two works, unknown even in the piano duo world and dealing with Johann Sebastian Bach each in an entirely different way: first, the Contrapuntal Studies by Ignaz Moscheles, in which he composed a concertizing second piano to 10 Preludes of the "Well-Tempered Clavier", and second, Robert Schumann's Six Fugues on the name BACH for Pedal piano. This colossus, which can be heard in our time only on the organ every now and then, seemed to long for an alternative piano shape, which we now present to the public with our four-hands-transcription.

Both cycles fascinated us enormously, in their individual mastership as well as through the total contrast of their nature: Moscheles absolutely free and playful, Schumann, on the other hand, writing in the strict style and longing for contrapuntal perfection.

To complete the album, we decided to choose a work right in the middle between these extremes: Carl Reineckes Bach Variations for piano four hands. The initial point here is Bachs Sarabande from the 1st French Suite, whose dark oscillation must have put Reinecke evidently under its spell.

In order to present this multitude of Bach transformations, with their friction between the baroque and romantic era, in an intriguing way, we have dramaturgically structured the CD. Thus, two Moscheles Preludes and one Schumann Fugue form an unity - this formation experiences many atmospheric conversions as the album goes along and, finally, leads to the triumph of the the last fugue's finale. After that, Bach's original Sarabande starts the last track, with Reinecke's expressive variations and a surprisingly contemplative ending.

We hope you enjoy listening and discovering!
Lucia Huang & Sebastian Euler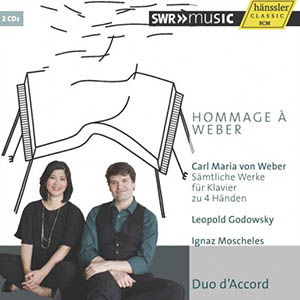 English booklet notes ...
HOMMAGE À WEBER (2 CDs)
CARL MARIA VON WEBER
Six Pieces op 3
Two Allemandes op 4
Six Pieces op 10
Huit Pièces op 60
Transcription for 2 pianos by Duo d'Accord
Overtures to "Abu Hassan" and "Silvana"
Transcription for piano four hands by Richard Kleinmichel
Piano concerto Nr. 2 in E flat major op 32*
Transcription for piano four hands by F. W. Jähns
Contrapuntal paraphrase on "Invitation to the dance"
Hommage à Weber. Grand Duo op 103*


* Premiere recording
NOMINATED FOR THE GERMAN RECORD CRITICS' PRIZE
CD-TIP SZ EXTRA
CD-TIP BR KLASSIK
CD-TIP WDR 3
HIGHEST RATING AT KLASSIK HEUTE

These performances by Duo d'Accord are far better than any previously released, being fresh, rhythmically supple, and lyrical expressive by turns

CLASSICS TODAY
Romanticism of the highest level
PIANO NEWS
Lucia Huang and Sebastian Euler are to be thanked for this Weber initiative in every way!
Klassik Heute
...a must, not only for piano fans but also for anyone who likes excitement and surprises
BR KLASSIK
Lucia Huang and Sebastian Euler open up a window into the realms of tranquility, sometimes towards a playground, sometimes towards paradise
WDR 3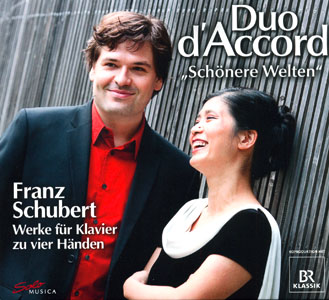 English booklet notes ...
CD-Tipp hr2 Kultur
We need to be thankful for a team like Duo d'Accord for overcoming all the difficulties and giving us one of the greatest Schubert releases ever.

AMERICAN RECORD GUIDE
Their ensemble is razor-sharp, their sound always perfectly balanced, and their conception grand and expressive.
FANFARE (USA)
They sound out the composition to the bottom of the finest details and create a moving expressiveness
PIZZICATO
They both hurl themselves into the music with speed and momentum, maintaining excellent balance in both sound and form
FONO FORUM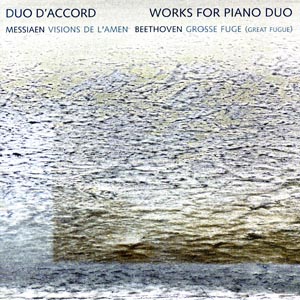 English booklet notes ...
Pizzicato Supersonic Award
CD-Tip SZ Extra
CD-Tip Deutschlandradio
CD-Tip BR Klassik

A marvellous meditative piano performance
BR KLASSIK
a resounding success
PIANO NEWS
They provide the necessary structural transparency on the one hand, whilst not sparing the evocative magical sound on the other
NEUE ZUERCHER ZEITUNG
It is remarkable how from two grand pianos a third, previously unheard instrument develops that is completely different
FRANKFURTER ALLGEMEINE ZEITUNG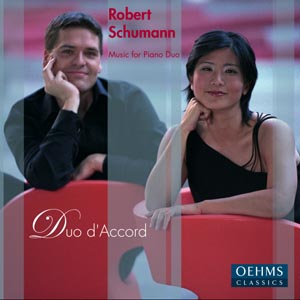 English booklet notes ...
ROBERT SCHUMANN: MUSIC FOR PIANO DUO
Bilder aus Osten / Pictures from the East op 66
Lebhaft
Nicht schnell und sehr gesangvoll zu spielen
Im Volkston
Nicht schnell
Lebhaft
Reuig, andächtig
Andante and Variations op 46
Piano Quintet op 44
Transcription for piano four hands by Clara Schumann*
Allegro brillante
Un poco largamente, in modo d'una marcia
Scherzo. Molto vivace
Finale. Allegro non troppo


* Premiere recording
This is first-class piano playing
FANFARE (USA)
An uncompromising atmospheric kaleidoscope
PIANO NEWS
The Taiwanese pianist and her German partner have proved themselves outstanding interpreters of Schumann
KLASSIK HEUTE
Lucia Huang and Sebastian Euler demonstrate sparkling vigour and an art of differentiation which enables them to convey the very depths of Schumann's emotions.
FONO FORUM
Schumann deserves nothing less than these brilliant interpreters of his works.
MAERKISCHE ALLGEMEINE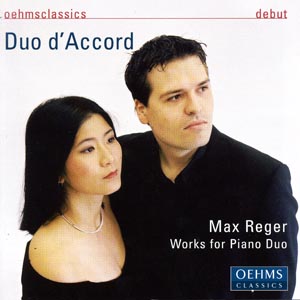 English booklet notes ...
MAX REGER: WORKS FOR PIANO DUO
Six Pieces op 94
Andante sostenuto
Andante con moto
Larghetto (ma con moto)
Vivace (ma non troppo)
Andante (quasi Larghetto)
Sostenuto (quasi Andante mesto)
Six Burlesques op 58
Äußerst lebhaft
Sehr schnell und eigensinnig
Äußerst lebhaft, mit Humor
Schnell und grotesk
Äußerst schnell und flüchtig
So lebhaft und übermütig als möglich
Variations and Fugue on a theme by Beethoven op 86
CD-TIP OF THE YEAR – DER BUND (CH)
HIGHEST RATING AT FONO FORUM
This album not only offers a very special kind of performance but also amounts to a rehabilitation of Reger's piano music.
FRANKFURTER ALLGEMEINE ZEITUNG
The music retains its lightness, its mischievious humour and – something largely unassociated with Reger – its casual conversational rhythm.
FONO FORUM
A fulminant Reger rehabilitation and a testimony of outstanding artistry
DER BUND (CH)
Compared with other performances of Reger, the pianists' great sensitivity to tone and integration of surprising effects render this a much friendlier interpretation to the ear.
PIANO NEWS
With this, their debut album in the world of classical music, Duo d'Accord immeditately moves into the upper strata of performers of piano music for four hands.
APPLAUS